Kids' gymnastics classes for up to 5 years old!
The YMCA runs KinderGym classes for kids aged from crawling to five years old at our gymnastics centres located near you in Brisbane and the Sunshine Coast.
KinderGym creates opportunities for toddlers and kids to enjoy both free play and structured activities. Our KinderGym sessions assist children to develop motor skills, coordination and confidence in a fun, nurturing and safe environment.
Qualified coaches run our KinderGym programs and offer new weekly activities and exercises for children to move, play, learn and develop each week. Our programs offer much more than just a physical activity. KinderGym helps children prepare for life, transition to school and promotes a lifelong love of health, learning, and sport.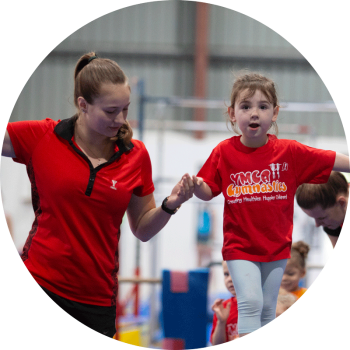 KinderGym Classes For Toddlers and Kids

1. Gym Bubs
Gym Bubs is a fun introduction to toddler gymnastics, suitable for kids from crawlers to 2.5 years old.
Delight as your child's world opens to the power of movement as they enjoy gripping, swinging, bending and crawling. This parent/caregiver assisted class focuses on sensory awareness and play, introducing small challenges and routines. Little crawlers to toddlers aged to 2.5 years develop motor skills through simple circuits, learning basic rotational movements, shape-making, weight transferring, gripping, bending, bar hangs, jumps and crawls.

2. Gym Tots
This KinderGym class, designed for 2.5 year olds to 4 year olds, refines movements and further develops gross motor movement. Cognitive and social development comes into perspective.
Children overcome hurdles, build confidence and work towards independence. Kids can then focus on key movements, improving core strength and working with their centre of gravity.
Gym Tots learn to take turns, play with others, understand direction and start to follow instructions.

3. Gym Kids
Gym Kids is for children from 4 years old to pre-prep who are looking for more challenges.
Being a little older, our Gym Kids classes enjoy more independent exploration and discovery time with their coaches.
We help children to gain independence in preparation for school. Parents become less involved as children come under the instruction of our expert coaches.
Want to learn more about our KinderGym program? Speak to our team today.
Next Steps After Graduating From KinderGym