Join gymnastics at the Y Caloundra and develop skills to last a lifetime!
Whether you're finding the ropes, or looking to perform competitively, YMCA Caloundra offers a range of gymnastics classes to suit your needs. With experienced coaches to guide you every step of the way, you'll gain confidence in no time. Classes include KinderGym, Recreational Gymnastics (Steps), Competitive Gymnastics, Rhythmic Gymnastics, Ninja, Adult Gymnastics, and casual Gym Play classes. Come and find out just how fun gymnastics can be!
Our Gymnastics Pathways will give you an overview of our classes on offer and future pathways for your children.
Lessons 6 Days
Ongoing Gymnastics Lessons
Gymnastics Caloundra Programs
48-Week

Gymnastics Program
Add gymnastics to your routine and enjoy fun weekly classes with new friends! Explore the classes we offer to find what suits you.
GYM TOTS (2.5 YEARS OLD TO 4 YEARS OLD)
This KinderGym class designed for 2.5 years old to 4 years old refines movements and further develops gross motor movement. Cognitive and social development comes into perspective.
Children overcome hurdles, build confidence and work towards independence. Kids can then focus on key movements, improving core strength and working with their centre of gravity.
Gym Tots learn to take turns, play with others, understand direction and start to follow instructions.
Our budding gymnasts balance, swing, continue to develop upper body strength, and practice jumping.
This is a parent/caregiver assisted class.
---
GYM KIDS (4 YEARS OLD TO PRE-PREP)
Gym Kids is for children from 4 years old to pre-prep who are looking for more challenges.
Being a little older, our Gym Kids classes enjoy more independent exploration and discovery time with their coaches. This program refines movement, core strength and focuses on both lower and upper both strength.
Listening and social skills develop as children interact with others within a group. Children learn to move their bodies in all directions with forward and backwards rolls, and develop both sides of the body through balancing exercises.
We help children to gain independence in preparation for school. Parents become less involved as children come under the instruction of our expert coaches.
Gym Kids balance, swing, skip, climb, hang and refine single leg and arm movements.
---
Rhythmic Gymnastics is where art meets sport. Its beauty thrives from dance movements choreographed to a variety of music. It improves children's flexibility, core strength, both physical and eye hand coordination as well as teaching them creative movement. The gymnasts use hand held apparatus – Rope, Hoop, Ball, Clubs and Ribbon in individual and group routines. We start children from 6 years age and provide classes for beginners to advanced. All classes are currently conducted under the highly regarded coach Diana Sierra from Spain.
Casual

Gymnastics Classes
Not able to commit for a full term? We offer casual Gym Play sessions for toddlers who can walk to age 5. These sessions are also perfect for parents who are looking for baby gym classes.
Gym Play is a non-structured play session where you get to bond with your child or children while helping them swing, roll and jump using all our fun gymnastics equipment! Come to one class or many.
Sessions are held every Wednesday and Friday from 10:00am–11:00am (excluding public holidays).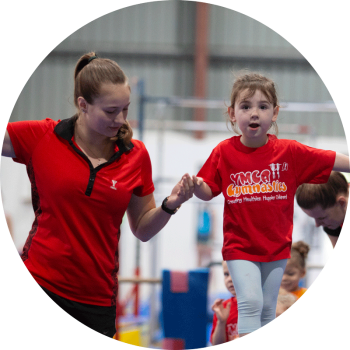 Fun School Holiday Program in Caloundra
In addition to normal gymnastics classes, the Y Caloundra offers 3-hour gymnastics sessions with qualified gymnastics coaches with fun activities including tumbling & trampoline, games, gymnastics and ninja circuits each school holiday.
The sessions are run most weekdays during the school holiday periods. The program is suitable for children from 5 to 12 years old.
Contact YMCA Caloundra Gymnastics
125 Arthur St, Caloundra QLD 4551
We Accept Fairplay Vouchers
FairPlay vouchers is one of the initiatives of Activate! Queensland program by Queensland Government to improve physical literacy in the early years and promote more opportunities to be physically active within communities. 
YMCA is proudly a registered activity provider of this program. Parents, carers or guardians can apply for FairPlay vouchers valued up to $150 for your child/ren (aged 5-17).
These vouchers can be used towards payment of gymnastics fees at any YMCA Gymnastics centre. For detailed information on how to apply click here.